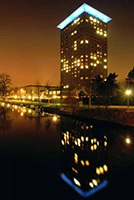 Ferdinand Bolstraat 333
1072 LH Amsterdam
The Netherlands
T: + 31 (0)20 678 71 11
F: +31 (0)20 671 23 44
E: reservations [at] okura [dot] nl
W: http://www.okura.nl/en/
The Hotel Okura Amsterdam is offering RIPE 70 attendees a discounted room rate of 195 EUR a night including breakfast, WiFi and VAT (excluding 5% city tax).
The discounted rate expired on 26 March 2015.
To book a room at the hotel, please visit the hotel's website or contact the hotel by email.
---
Alternative Accommodation
You can choose from a number of hotels within walking distance. The RIPE NCC neither recommends nor guarantees the quality of the hotels listed. Alternative hotel options can be found via travel sites like booking.com, hotels.com, or through travel agents.
Savoy Hotel Amsterdam
Ferdinand Bolstraat 194, Amsterdam
+31 (0) 20 644 7445
Rates start from EUR 156 including WiFi; breakfast from EUR 15
Distance: 4 min walking
easyHotel Amsterdam City Centre South
van Ostadestraat 97, Amsterdam
+31 (0) 20 846 8100
Rates start from EUR 71
Distance: 7 min walking
Wyndham Apollo Hotel Amsterdam
Apollolaan 2, Amsterdam
+31 (0) 20 673 5922
Rates start from EUR 195 including WiFi; breakfast from EUR 22.50
Distance: 10 min walking
Aalborg Hotel Amsterdam
Sarphatipark 106 – 108, Amsterdam
+31 (0) 20 676 0310
Rates start from EUR 85.50 including WiFi; breakfast from EUR 9
Distance: 13 min walking
Hotel Victorie
Victorieplein 42, Amsterdam
+31 (0) 20 305 7470
Rates start from EUR 141 including breakfast and WiFi
Distance: 13 min walking
Conscious hotel Museum Quarter
De Lairessestraat 7, Amsterdam
+31 (0) 20 671 9596
Rates start from EUR 162 including WiFi; breakfast from EUR 13.50
Distance: 21 min walking
Ibis Styles Amsterdam City
Stadhouderskade 135, Amsterdam
+31 (0) 20 675 0553
Rates start from EUR 155 including breakfast and WiFi
Distance: 21 min walking
NH Amsterdam Museum Quarter
Hobbemakade 50, Amsterdam
+31 (0) 20 573 8200
Rates start from EUR 199 including breakfast and WiFi
Distance: 21 min walking
Boutique Hotel Notting Hill
Westeinde 26, Amsterdam
+31 (0) 20 523 1030
Rates start from EUR 192 including WiFi; breakfast from EUR 23.50
Distance: 21 min walking
PH Hotel Oosteinde
Oosteinde 15-17, Amsterdam
+31 (0) 20 820 8380
Rates start from EUR 215 including WiFi; breakfast from EUR 9.50
Distance: 24 min walking
Holiday Inn Amsterdam
De Boelelaan 2, Amsterdam
+31 (0) 20 646 2300
Rates start from EUR 75 including WiFi; breakfast from EUR 22
Distance: 24 min walking
Hotel City Garden
P.C. Hooftstraat 162, Amsterdam
+31 (0) 20 672 7919
Rates start from EUR 158 including WiFi; breakfast from EUR 10
Distance: 26 min walking
Conservatorium Hotel
Van Baerlestraat 27, Amsterdam
+31 (0) 20 570 0000
Rates start from EUR 499.95 including WiFi; breakfast from EUR 35
Distance: 26 min walking
Hotel Novotel Amsterdam City
Europaboulevard 10, Amsterdam
+31 (0) 20 791 9179
Rates start from EUR 182 including WiFi; breakfast from EUR 22.50
Distance: 26 min walking
Hotel Amstelzicht
Amstel 104, Amsterdam
+31 (0) 20 623 6693
Rates start from EUR 187 including breakfast and WiFi
Distance: 32 min walking