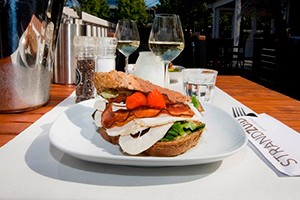 When: 20:00 – 01:00
Where: Strand Zuid
Address: Europaplein 22, Amsterdam
Join us for a night of cocktails, craft beer, an international bar and great food at Amsterdam's modern and stylish city beach, overlooking the water at the lovely Beatrixpark. The venue is located just 15 minutes walking from Hotel Okura Amsterdam. If you are not staying at Okura, you can find public transport options for the way back here.
Walk:
The venue is just 15 minutes walking distance from Hotel Okura Amsterdam.
Shuttle Bus
There will be a small shuttle bus making rounds between the Okura Hotel and Strand Zuid. The bus leaves the Okura Hotel every 15 minutes from 19:45 – 21:00 and leaves Strand Zuid every 30 minutes from 21:30 – 01:00.
Public transport:
Due to the Okura Hotel's proximity to the venue, we recommend walking. If you are staying at a different hotel and prefer to use public transport, these are your best options:
– Tram 4, bus 65 and bus 245 go to Dintelstraat
– Tram 4 and bus 62 go to Europaplein
Both of these stops are close to the venue.